15% off Diamond Engagement Rings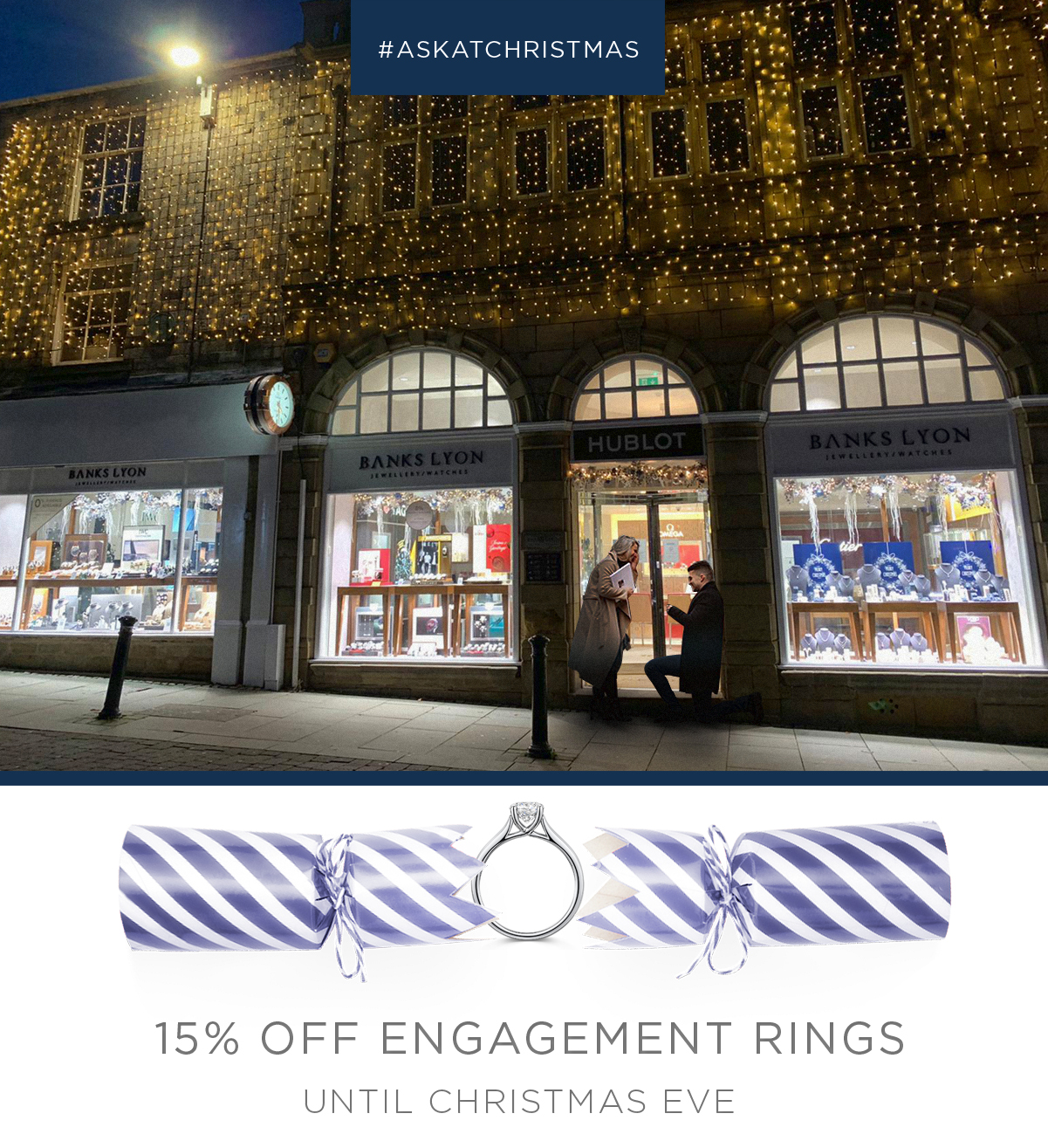 15% OFF our Entire Engagement Ring Collection. Find your perfect ring then contact us to gain 15% OFF.
(Not available with 0% Finance. Terms & Conditions Apply)
Explore the biggest collection of Diamond Engagement Rings in the North West at Banks Lyon and find the perfect design.
We have over 70 years' experience of buying Diamonds which we offer freely to assist and guide you in purchasing the very best Diamond for you and your loved one. The buying experience we at Banks Lyon Jewellers offer to you is precisely tailored to your individual wants and needs and we aim to make the process as easy and enjoyable as possible. We are here to assist you. You can rest assured that when you buy your Diamond from Banks Lyon Jewellers you can trust us to source the best Diamonds for the price.
Share you stories
Share your festive proposal stories with us – whatsapp, email, Instagram, facebook, or on any other social media you prefer!
You can use the hashtag #AskAtChristmas and tag us @bankslyon
Our Commitment to Offer You Diamond Rings of Unsurpassed Quality at the Very Best Prices
This exquisite selection of diamond engagement rings blends luxury and affordability seamlessly and offers unparalleled quality and beauty. We have the largest collection of diamond rings in the North West, all designed in-store and crafted by hand in Birmingham's historic jewellery quarter. Our in-house qualified diamond experts continuously source the finest diamonds available from across the globe and pair them with the most elegant handmade platinum or 18ct gold mounts imaginable. All of our diamonds are fully certified by the world's leading gemological laboratories.
We understand that it can be challenging to accurately predict ring sizes, so we are pleased to offer your first resizing free of charge on all of our Banks Lyon Signature Collection rings, which are available in all sizes.
Our Heritage
In 1887, the Banks-Lyon family opened its first retail store on Church Street, Lancaster. The store soon became synonymous with high-quality goods and excellent customer service. A few generations later, Rodney Banks-Lyon opened a jewellery store in 1985 on the very same premises, continuing the hard-earned reputation built on the values established in the late 19th century.
Just like our jewellery store, our Dimaond Collections are designed and created to last for generations.
Discretion
We understand that discretion is essential when making a surprise proposal. For this reason, we provide you with a relaxed, secluded and exclusive setting at Banks Lyon, where you can discuss your vision with our experts. Our private bar, tucked away in the back of our shop, is the perfect place to find the right ring for your partner.
With a selection of drinks on offer, such as tea, coffee, Champagne or locally-selected beer and real ale, you'll have the opportunity to share such an intimate purchase with family and friends, surrounded by luxury and comfort.
Banks Lyon epitomise exclusivity by providing every customer with a personal shopper service, tailored directly to your individual needs and, more importantly, to your taste and budget. Your Banks Lyon personal shopper will be with you every step of the buying process to ensure that you find the perfect ring.